JCS Newsletter Vol.1
Exhibition Booths nearly sold out! Buyer Pre-application until July. 17(Wed.)
★TOPICS★
-TIFFCOM/TIAF Exhibition Booths nearly sold out!
-Online Application for Buyer & Visitor is now available!
-About TIMM (Tokyo International Music Market)
-JCS2018 Video Report
-The Tokyo International Film Festival (TIFF) NEWS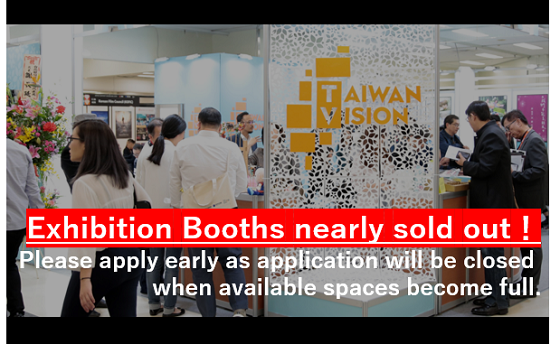 Exhibition Booths nearly sold out ! (TIFFCOM/TIAF Ikebukuro venue)
Although many exhibitor applications have been received by Early Bird deadline, we can still accept limited number of applications. If you wish to exhibit at TIFFCOM 2019, please apply early. Deadline: July 31 (Wed)
TIFFCOM/TIAF Exhibitor Application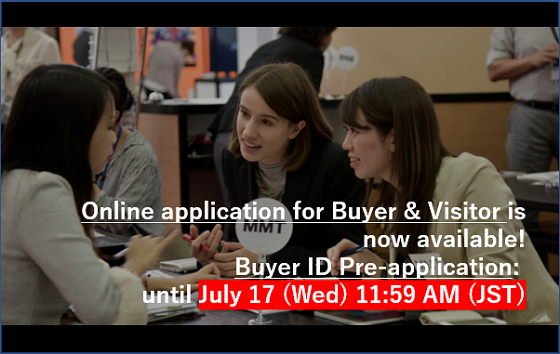 Online Application for Buyer & Visitor is now available!
Buyer ID Pre-Application: until July 17 (wed)

Buyer Pre-Application: 5,500JPY (tax included)
Deadline: July 17th (Wed) 11:59AM JST
*Buying history screening & approval process by organizer's office will be required for the registration.
。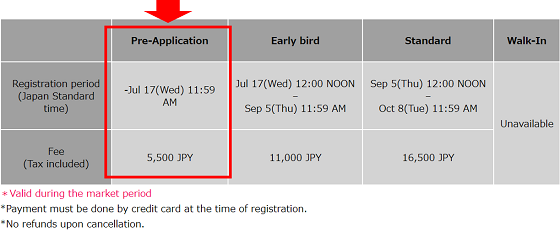 Announcement of the 16th Tokyo International Music Market (16th TIMM)
October 28 – 30, 2019 in Shibuya, Tokyo

The Tokyo International Music Market (TIMM) will take place once again in the bustling Tokyo pop culture center and soon-to-be the city's tech hotbed, Shibuya. TIMM will continue to focus on music and will collaborate with the film and anime industries as well as the Shibuya district to bring together the international creative contents community. TIMM is an annual music trade event which attracts more than one thousand buyers and media from around the world. The event is organized by Japan Music Culture Export (JMCE), formerly known as the Foundation for Promotion of Music Industry and Culture (PROMIC).
The 16thTIMM)
Dates: October 28 – 30, 2019
Location(s): Shibuya Excel Hotel Tokyu (conferences & tradeshow)
Veats Shibuya and Tsutaya O-East (live music showcases)

URL:https://www.timm.go.jp/en/
Further details on the event will follow shortly. Please address any enquiry on the event to:
Japan Music Culture Export (JMCE):
timmoffice@jmce.or.jp


JCS2018 Video Report
This is a video report of Japan Content Showcase 2018. Various scenes with the interviews of the exhibitors, buyers and other participants during JCS 2018 can be found here.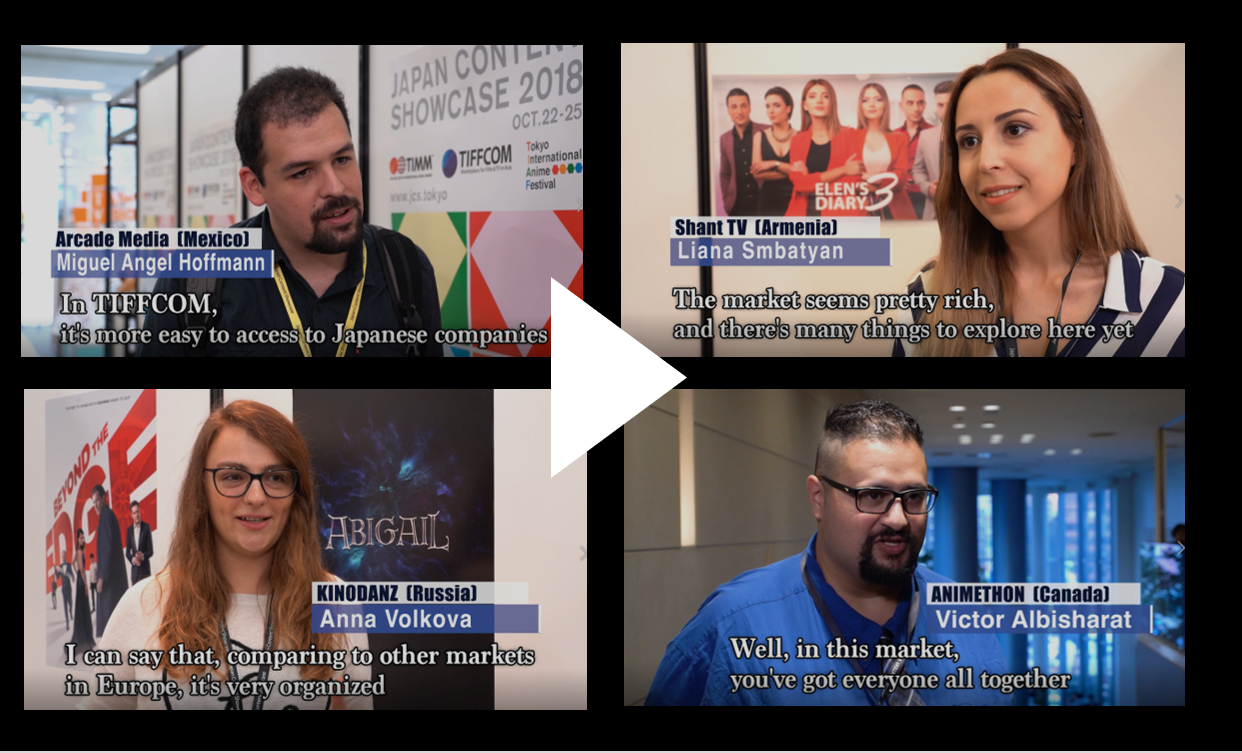 ★JCS2018 DATA★
– Total Number of Visitors: 17,675 (from 54 countries / regions)
– Business Meetings: 8,201
– Total Value: $63,340,750
– Number of Exhibitors: 382 (from 25 countries / regions)
– Number of Participating Buyers: 823 (from 42 countries / regions)

TIFF 2019: Teens Meet Cinema
Special Project of 32nd TIFF Youth Section

The Tokyo International Film Festival (TIFF), in collaboration with Children Meet Cinema, which runs youth filmmaking workshops, will present TIFF 2019: Teens Meet Cinema, a production workshop for junior high school students, as a special project of the festival's Youth Section. This follows successful workshops in the past several years, and strengthens one element of TIFF's vision, Enlightening, which aims to foster a future for film and to cultivate young talent.

Japan Content Showcase Office
【E-mail】inquiry@tiffcom.jp
【TEL】 03-6226-3020
【FAX】 03-6226-3024