JCS Newsletter Vol.2
Advertisements, Market Screening
open online!
Exhibitor Application Started for Shibuya Venue (TIMM)
★TOPICS★
Advertisements, Market Screening open online!
TIFFCOM/TIAF (Ikebukuro Venue) Exhibition Booths nearly sold out!
Exhibitor Application Started for Shibuya Venue (TIMM)
Buyer Pre-Application: until July 17 (Wed)

Advertisements, Market Screening open online!

Advertisements
Advertising opportunity for exhibitors will be available soon on the JCS website. Take advantage of these effective promotional tools to have a better exposure.
*Application starts on July 8 (Mon) at noon (JST) "first come, first served" basis.



Market Screening
JCS offers a paid market screening service for booth exhibitors only.
Take this opportunity for the premieres, press conferences, and more to suit your goals.
Deadline: August 9 (Fri)

Optional Equipment
Various optional equipment and decoration service for exhibition booths are provided in order to conduct effective promotion and business.
Please order according to your needs.
Deadline: September 4 (Wed)

Please refer to the Official Website and make application(s) by each deadline.*JCS exhibitors only can apply

We hope you will take this opportunity to promote your content / services to much wider targets.
Exhibitor Service
TIFFCOM/TIAF (Ikebukuro Venue)
Exhibition Booths nearly sold out!
Although many exhibitor applications have been received by Early Bird deadline,
we can still accept limited number of applications.
If you wish to exhibit at TIFFCOM 2019, please apply early.
Deadline: July 31 (Wed)
TIFFCOM/TIAF Exhibitor Application 
Exhibitor Application Started for Shibuya Venue (TIMM)


Exhibitor application has been started to accept for TIMM.
Deadline: July 31 (Wed) TIMM Official Website or
TIMM Exhibitor Registration
Buyer Pre-Application:
until July 17 (wed) 11:59 AM (JST)

Please don't miss this opportunity to register approximately 1/3 of the standard price!
buyer Pre-Application: 5,500JPY (tax included)
Deadline: July 17 (Wed) 11:59AM JST
*Buying history screening & approval process by organizer's office will be required for the registration.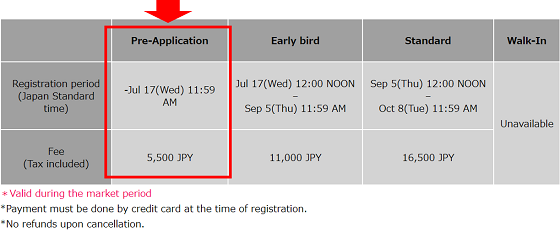 Japan Content Showcase Office
【E-mail】inquiry@tiffcom.jp
【TEL】 03-6226-3020
【FAX】 03-6226-3024