Newsletter Vol.5
Record-Breaking Number of Exhibition Booths !!!

In this week's newsletter:
・The Number of Exhibition Booths will be highest record
・Exhibitor Service Information
・Official Online Library FOYER
・Official JCS hotel information, special rates for registered guests
・Business matching information
・Ikebukuro (Toshima City) Fun Facts
Exhibitors decided! The number of booths is 20% more than last year!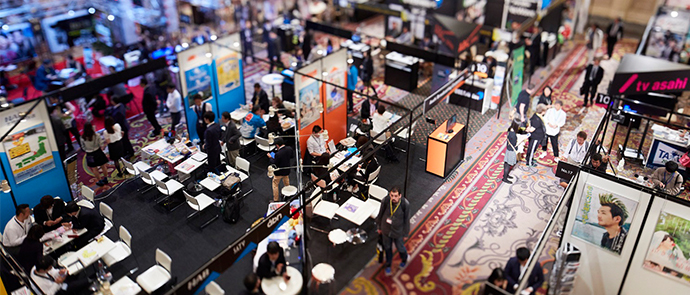 The exhibitors of this year have been decided. The number of booths has increased by 20% over the last year, and it is the highest number ever. It is now a fact that the expectations of Japan Content Showcase as Asia's leading international content market are growing more and more.

Note: Exhibitor List can be checked here (*the list is as of today and will be updated)

Exhibitor Service Information
〇Advertising options few left
You can advertise by printing tools in venue. (only exhibitors) Some advertising options for exhibitors are now sold out. Take advantage of these effective promotional tools for communicating your message to event visitors.
Details
〇Market screening frame few left
Market screening services few left. The second stage of application deadline is Friday, August 25.
Details

JCS continuously decided to use ,"FOYER" as Official Online Library as last year
Japan Content Showcase (JCS) will continuously use an online platform "FOYER" developed by IMAGICA Corp. as Online Library as last year. Since the service launched, a lot of major content holders in Japan and overseas professional buyers have used it. As high level security and performance of overviewing logs, this platform is extremely acclaimed among the users at last convention. Thus, we have continuously decided to use it as an official Online Library of JCS 2017 in order to effectively promote the exhibitor's contents from Japan to content buyers all over the world.
Note: You must register in JCS if you use the FOYER.
More details click here
<Contact>
IMAGICA Corp. (more details of "FOYER")
E-mail: foyer_jcs2017@imagica.jp Tel: +81-3-3280-1427 / Fax: +81-3-3280-7503
JCS Official Partner hotel information
JCS guests are eligible for special event rates at official JCS hotels. See below for accommodation plan (rate) details and information on how to reserve rooms.
Details

Registration is Now Open for Buyer ,Visitor and Press !
Buyer registration and details
Early bird special for buyers now available!
Currently JCS is accepting buyer registration with the special rate ¥10,800 (includes tax). Please don't miss this opportunity to register during the period! Early bird special: ¥10,800 (includes tax): Register by Thursday, September 7 Standard / JPY 16,200 (tax included): September 8 (Fri) – October 10 (Tue)
Details
Note: You must submit your buyer history to register
Early bird special for visitors: ¥13,500 (includes tax): Register by Thursday, September 7
Standard / JPY 20,250 (tax included): September 8(Fri) – October 10 (Tue)
Visitor registration and details
Press registration now open until Tuesday, October 10
Press details
Business matchmaking meeting information
This year, as part of service improvement for exhibitors and participating buyers, we are going to hold a business matchmaking meeting. Focusing on the new exhibitors, identifying the needs, picking out appropriate matches among registered buyers, we will efficiently select the best-suited matches and help you increase the number of business negotiations / signed contracts during the exhibition.
Ikebukuro (Toshima City) Fun Facts
We'll be showcasing more great features of Ikebukuro (Toshima City) in our newsletter
Hareza Ikebukuro(Nickname of the former City Office area)
A nickname has been chosen for the former City Office area , Hareza Ikebukuro Toshima City has been promoting the international City of Arts & Culture with the entire city as the stage and where anyone can play the leading role. Eight theaters that offer a colorful line of programs will be constructed in the former City Office .The cultural hub which welcome 10 million visitors every year will have it grand opening in the summer of 2020.
<For more information,contact:>
Japan Content Showcase Office
【E-mail】inquiry@tiffcom.jp
【TEL】 +81-3-6226-3020
【FAX】 +81-3-6226-3024