Press Release Vol.1
Three markets are held together as "Japan Content Showcase 2017
※From October 23 (Mon.) to October 26 (Thurs.),
2017 at Ikebukuro / Shibuya venue

Note:
The Japan Content Showcase 2017 is a combined triple-market international trade fair scheduled for Monday, October 23 through Thursday, October 26, 2017 at two venues: Ikebukuro and Shibuya. The event maximally leverages accumulated brand value to bring in global industry leaders.
This year, focusing on "IP"(Intellectual Property), we plan a lot of IP related seminarsand events, and also create a space for IP related business
"Japan Content Showcase" (JCS) is the 6th joint international film, music and animation market since 2012. It is organized by Ministry of Economy, Trade and Industry (METI), Foundation for Promotion of Music Industry and Culture (PROMIC), UNIJAPAN, The Association of Japanese Animations (AJA).
Appropriate for the "Cool Japan" aesthetics, it has an advantage of dealing with various content. As the number of foreign visitors including buyers is an increasing trend year by year, the name of JCS is becoming widely known both domestically and abroad. In 2016 we added Shibuya venue to the main venue in Odaiba. This year we will expand the event scale by moving it from the Odaiba venue to Ikebukuro, and also hold it at two venues. As a result, the total area of the venue increased by 130%, and the area of exhibiting booths also increased by 120%.
We expanded the space that can be used for various events and boosted the holding seminar both in mass.
※Japan Content Showcase 2017 official website:
http://www.jcs.tokyo/2017/en/
Official websites for the three organizations that make up the JCS consortium
・Film and television trade fair:
UNIJAPAN( https://www.unijapan.org/)
・Anime trade fair:
The Association of Japanese Animations( http://aja.gr.jp/)
・Music trade fair:
Foundation for Promotion of Music Industry and Culture( http://www.promic.net/)
Number of exhibitors and registered buyers up 50% or more
In the last five years, JCS has seen the number of exhibitors and registered buyers climb by 50% or more, indicating just how rapidly the Tokyo-based international content market has grown. Despite the countless content markets being held around the world, it is rare to see a trade fair with growth this dramatic—proof that all eyes from the world are on Asia when it comes to content—and more specifically, Japanese media content.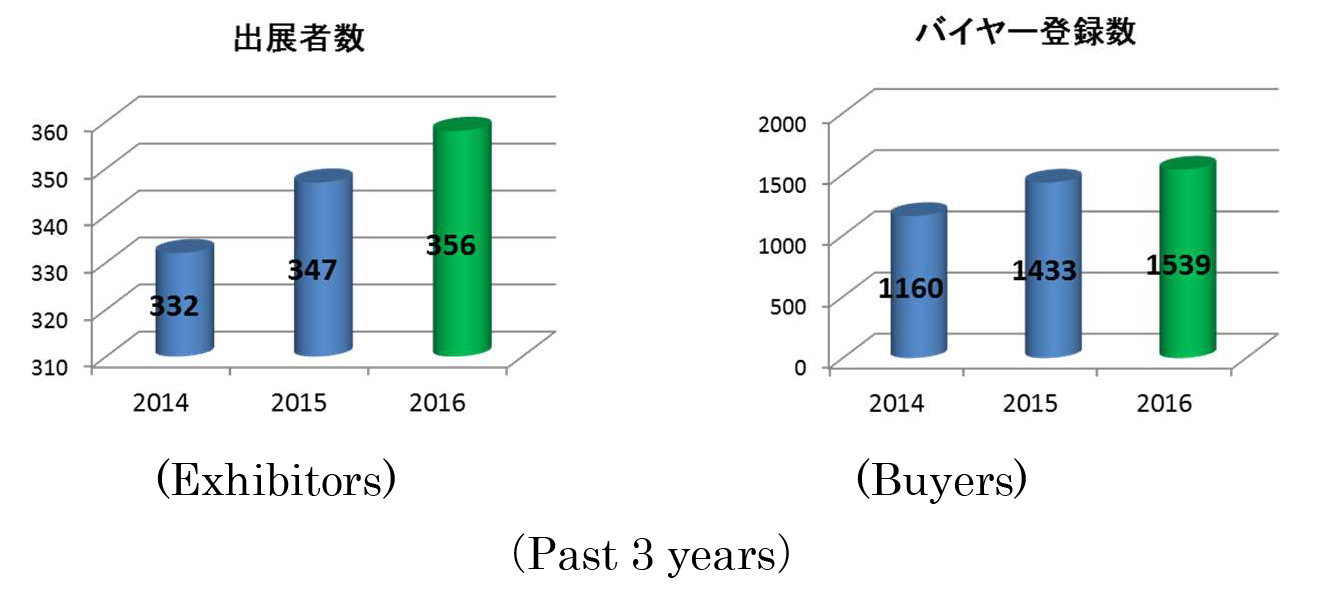 ■Number of registered buyers: 1,539
Last year, registered buyers hailed from a record 49 countries and regions, with overseas buyers including four from the Middle East, seven from Africa, seven from Oceania, 16 from Latin America, 84 from North America, 88 from Europe, and 720 from elsewhere in Asia. Asian buyers made up 46.8% of the total last year, up 21% from the year before. The number of Chinese buyers in particular grew markedly, coming in at 140.
■Number of exhibiting organizations: 356
There were 232 exhibiting organizations from Japan last year, accounting for 65.2% of the total. In terms of content category, 25.9% were in television, 20.1% in anime, 17.2% in music and 16.9% in film. There has been pronounced growth in television, particularly from local channels. Visiting buyers were impressed with the quality of the exhibits, with more than 76% describing them as "good" or "excellent" in a survey.
■Number of business negotiations: 6,805
■Value of contracts: USD 53,053,381
This figure is based on surveys and interviews conducted immediately after the event (236 valid responses collected). Though it includes the value of expected business contracts, it is thought that a follow-up investigation would see that USD 53,053,381 figure increase further.
Held in Ikebukuro, a district actively transforming itself into an international hub of arts and culture
The TIFFCOM/TIAF film, television, and animation market will be held in Ikebukuro, an anime-friendly town that is also actively transforming itself into an international hub of arts and culture. Until last year, TIFFCOM/TIAF had their primary venue at Grand Nikko Tokyo Daiba, but have decided to relocate to Ikebukuro this year. Ikebukuro was thought to be the ideal location, as it is not only known to be an anime-loving area (home to the Animate headquarters as well as numerous anime-related shops and facilities), but is also actively transforming itself under a Toshima City initiative whose aim is to make Ikebukuro an international district of arts and culture. These efforts are in preparation for the huge number of overseas visitors that Toshima is expected to receive during the 2020 Tokyo Olympic and Paralympic Games. We're supporting collaborative efforts between the city and Ikebukuro shopping districts to bring the area together as a lively, prosperous event site.
The TIMM music market venue will be located in Shibuya again this year
TIMM has decided on Shibuya, known around the world as a hotbed of Japanese culture, as the site of the music market venue. Shibuya has always been a music-loving area, perfect for showcasing the industry. The 2017 JCS event will mark the second year since the main venue was relocated to Shibuya. With TIMM further specializing in the music aspect of the event, we are still aiming to strengthen ties with TIFFCOM (film) and TIAF (animation) via the Japan Content Showcase while collaborating with tourist associations, outside industries, and other groups in a way that makes the most of the unique features of the Shibuya area. Our goal with these efforts is to create the most advanced international music market to date.
Tokyo International Music Market : https://www.timm.go.jp
Working with a broad spectrum of leading content industry organizations to devise and create distinctive business matching opportunities
Upcoming JCS seminar making headlines with talks from numerous key content industry leaders The JCS Seminar has always been highly regarded for its hot topics and notable guest speakers, and this year is no exception. The organization has another worthwhile event planned with attention-grabbing leaders from multiple industries set to take the stage. Keynote speakers are introduced below.
・Paolo Del Brocco:
CEO of the Italian production company Rai Cinema, Del Brocco is the head of the filmmaking department and has been involved in numerous collaborative international film projects in Europe. He will speak about the reasons behind Asia's current popularity in the film industry and his company's strategy for the region.
・Craig Kyle:
Film development supervisor for all of Marvel Studios in the US, Kyle took charge of production for all three films in the Mighty Thor series. He currently working on a liveaction drama version of the Japanese manga Ga-Rei. In his seminar titled, "Finally it is started ! Its possibility of Japanese contents in the time of SVOD."
・Kunihiko Murai:
The Japanese legendary songwriter, producer Kunihiko Murai will make keynote speech under title of「My life in Music in the US and Japan」.
Murai celebrating his 50 year music career as a songwriter this year, has written many evergreen hits such as "Tsubasa o Kudasai". He is also a pioneer in bringing Japanese music international, known as the founder of "Alfa Records" and one of the key people behind the global success of Yellow Magic Orchestra (YMO) from the label. In this keynote, looking back in his global music career of 25 years in Japan and 25 years in LA in the United States, he will talk about his thoughts on Japanese music in the global market and will give fruitful advice on how to make your music successful globally.
This year, JCS will be holding numerous seminars that focus on the topics of intellectual property and China. Satoshi Shinohara, executive director at the Toei Company, will talk about his company's overseas strategy for Japan's special-effects intellectual property business, along with seminars on "the significance of the "Anime Pilgrimage" project now in progress" and " Broadcasting content in strategic intellectual property–Chapter 2″— educational content that expands the fan base of Japan—will also join the lineup.
JCS will also include seminars titled "Trends in China's Anime Comic Game Novel (ACGN) market" and "Case studies of rolling out Japan-made intellectual property in China". There will be a full range of China-related seminars at the TIMM venue in Shibuya as well, including one titled "Chinese copyrights and the status/potential for live-action content business."
While last year's JCS event received stellar reviews for its combined TIMM/TIFFCOM/TIAF seminars that touched on topics in the music, film, and anime genres and across a broad range of formats, this year will bring in the two directors of the Japan 2.5-Dimensional Musical Association to give a talk entitled "Japan made world-class musical: The potential of 2.5-dimensional musicals".
With countless other up-to-the-minute topics covered and a diverse group of speakers from Japan and around the world, JCS is the event to watch. Invaluable opportunities and information await anyone and everyone involved in the content business via its many meaningful seminars. Don't miss it!
Inquiry
Japan Content Showcase
Yoichi Takano
【Mobile】080-3493-4779
【E-mail】inquiry@tiffcom.jp
【TEL】 03-6226-3020
【FAX】 03-6226-3024