JCS newsletter Vol.15
Japan Content Showcase 2017(Ikebukuro venue) opened today! Music Market TIMM ends tomorrow with the final live showcase!

ーToday's newsー
・Event Schedule(Oct 25th)
・Today's Highlight
・Registration and Venue Open Hours in Ikebukuro
・ID Pick Up QR code Information
・Shuttle bus service information
Event information (Oct 25th)
<Seminars>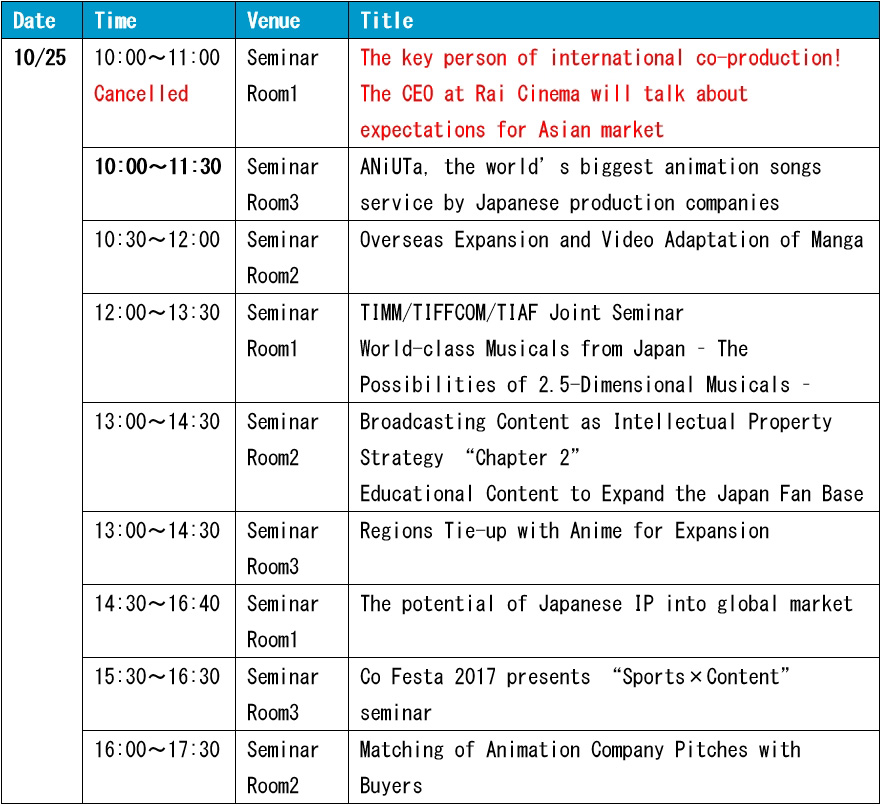 <Market Screening>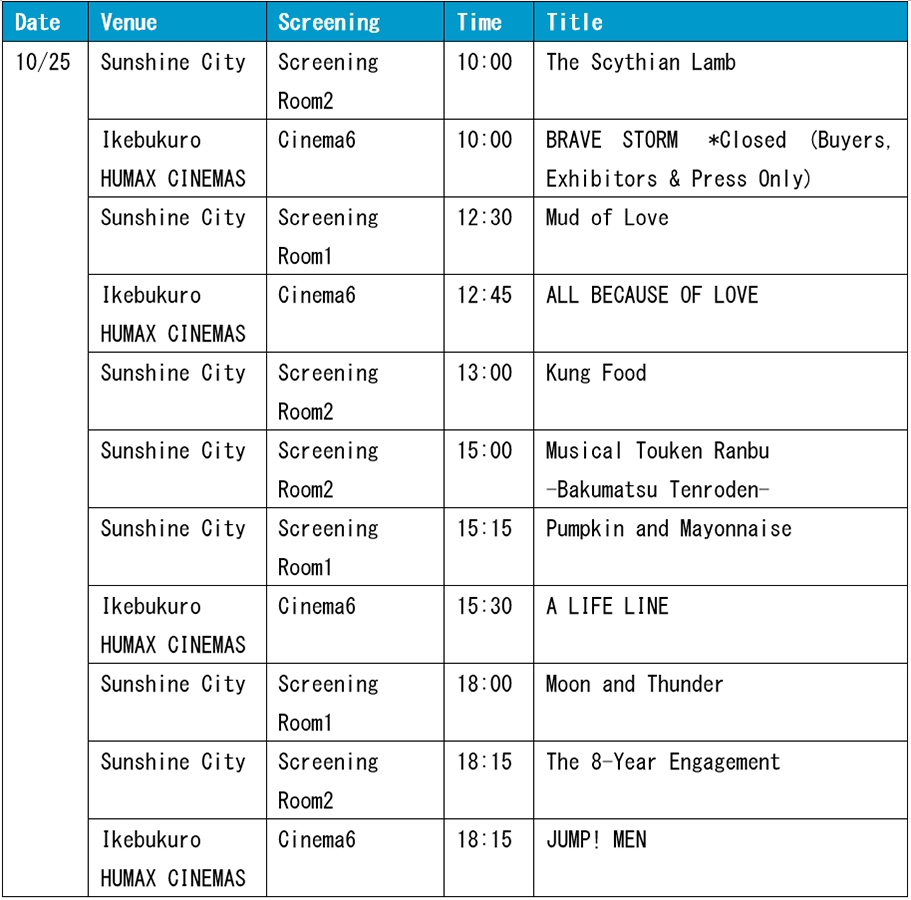 <P&I Schedule>

<TIMM Showcase Live>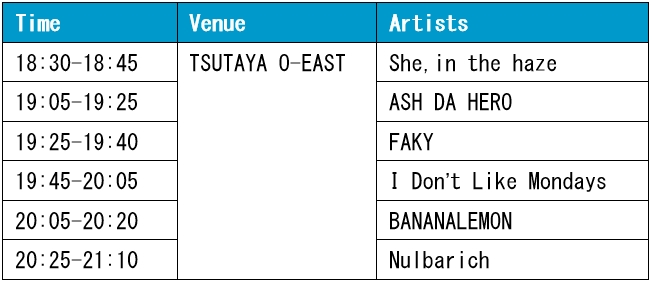 <Mini Stage schedule>
Ikebukuro venue


<Event & Reception information>
Ikebukuro venue


<JCS related seminar Support Aid Live for Kumamoto/Kyushu>
@alpa B1F Fountain Plaza (near JCS venue)
10/25 12:00~14:10
※25th 12:00~13:00 Promotion event film「Goodbye,Granpa!」
(Tokyo international Film Festival collaboration event)
※Admission free
① Hitoyoshi City , Kumamoto Film Goodbye ,Grandpa !(Tokyo international Film Festival collaboration event) Enjoy your moment to trip to Kyushu. Introducing you the filming location Hitoyoshi City
② Kyushu Meguriuta Nostalgic and famous songs, inviting you to land of Kyushu
③ KIMONO PROJECT The world can become one Dreams & Hopes from Kyushu
Detail:http://www.aie-kyushu.com/jcs2017/
<JCS related seminar IDOL SHOWTIME IN Japan Content Showcase 2017>
10/25(Wed)
[Appearance]
①Clef Leaf/READY TO KISS ②FURIKAKE≠PANIC/Flower Notes ③FES☆TIVE/CoverGirls
[Time]
①Open11:00 Start11:15 ②Open13:30 Start13:45 ③Open16:00 Star16:15
[Fee]Adv 1,000Yen Door1,500Yen(no drink included)
※Reentry permitted , max 80 public visitors. Goods sales &special benefit event will be held after each show
[Organize]/Nippon COLUMBIA Co. ,Ltd
[Produce]/TSUTAYA IKEBUKURO AK Bldg./LIME LIGHT
http://tsutaya.tsite.jp/feature/store/ikebukuro/live
※Regardless of category , nationality , etc. , all JCS ID badge Holders will receive the same benefits. By presenting the ID Badge , you can participate in the special benefit event for free.
Today's Highlight@Ikebukuro venue



TIFFCOM
Today (Oct. 24) marks the start of the content market at Ikebukuro Venue! Tokyo's representative areas of Ikebukuro and Shibuya have begun to showcase Japanese contents to the world! From early this morning, registration for the Ikebukuro venue was crowded with people, and colorful eye-catching booths filed the exhibition hall.
This year, various seminars will be held with the theme of IP as a key word. We invite leading industry representatives in Europe and the United States and they explain about the overseas expansion business of Japanese movies which attracts the attention of professionals from around the world. It was so prosperous.

TIAF
Japan Content Showcase2017 venue was filled with numerous animation exhibitors this year. Today's start-up seminar is the lecture on the forefront of the animation industry, overseas expansion of TV animation . Later negotiations were also active, and the venues were successful with people from the animation industry.
TIMM
Today showcase live will be held in TSUTAYA O-EAST Shibuya. Last night, six sets of variety of artists ranging from girls band to high school student Anison singer showed impressive performances for buyers and visitors gathered from different countries.
Registration and Venue Open Hours in Ikebukuro
Ikebukuro venue

Walk-in Registration(issued at only Ikebukuro venue)
"Walk-in" is on-site registration, it's valid for four days (Ikebukuro/ Shibuya). Your registration photo is not required to bring, because you can take it at the registration desk. Even if you forget to register in advance, if you have this pass, you can also participate in various events and seminars.
Walk-in Registration
Fee: JPY 27.000 (tax included)
Valid period: Oct 23 (Mon) – 26 (Thu) *Japan Time
ID Pick Up QR code Information
For JCS ID Registrants, please print the QR code and bring it with you when you come to the registration to pick up your ID badge. When the log-in to your own MYPAGE and clicks a green button "ID Pick QR code" in the lower left, QR code is displayed. Thank you for your cooperation!
https://account.jcs.tokyo/mypage/

Shuttle Bus Service Information between Ikebukuro to Roppongi
Japan Content Showcase2017 offers a shuttle bus service between Ikebukuro to Roppongi for two days while the market goes on. Please bring the JCS/TIFF ID badge with you when you get on the bus. About 40 minutes between Ikebukuro and Roppongi and the schedule may be changed depending on the traffic. Please check the timetable.
10/25(Wed) Ikebukuro⇒Roppongi:
13:00~20:00 / Every hour on hour
Roppongi⇒Ikebukuro:
14:00~22:00 / Every hour on hour
10/26(Thu) Ikebukuro⇒Roppongi :9:00~20:00 / Every 30 minutes :
     Roppongi⇒Ikebukuro :9:00~21:00/ Every 30 minutes
Pick-up Point
1F Bus Terminal, Sunshine City (Ikebukuro / JCS venue)
Drive way entrance A, Roppongi Hills(Roppongi / Tokyo International Film Festival Venue)
<For more information,contact:>
Japan Content Showcase Office
E-mail】inquiry@tiffcom.jp
【TEL】 +81-3-6226-3020
【FAX】 +81-3-6226-3024